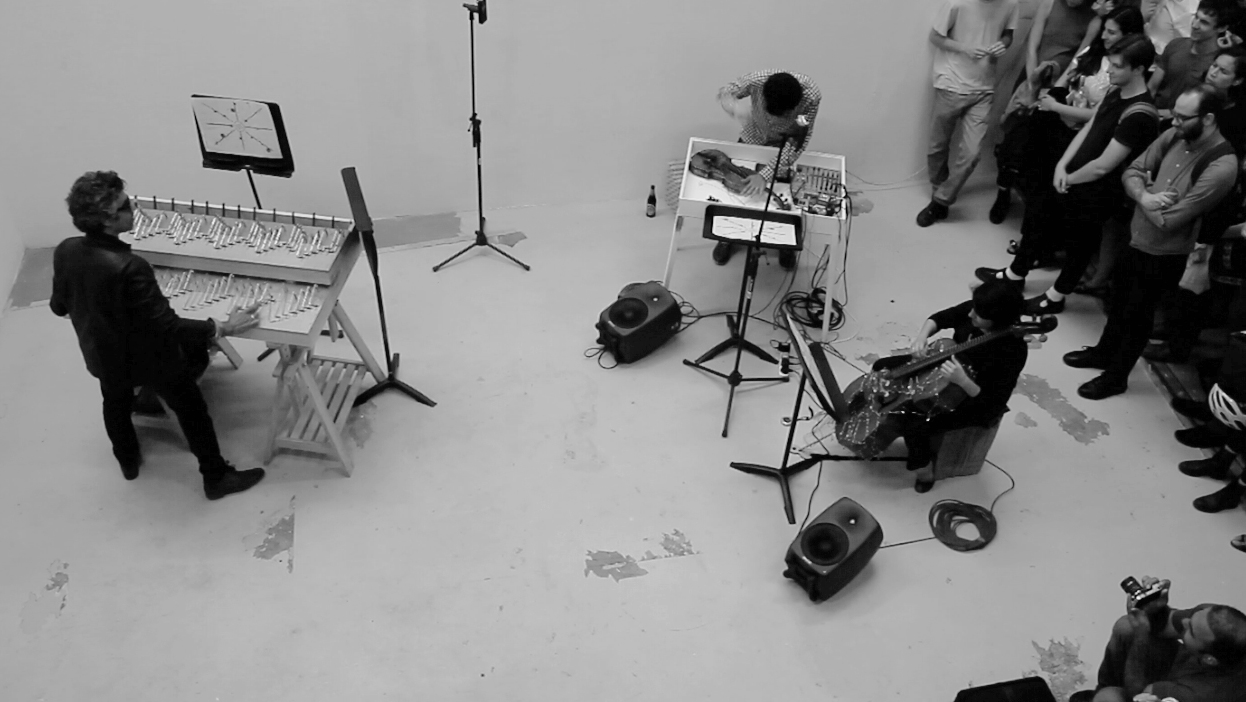 Sherko Abbas is a Kurdish-Iraqi artist. He was born in Iran in1978 where his family lived as refugees and returned to Iraq when he was two years old. He studied Fine Art in Sulaymaniyah-Iraq and graduated with a Master in Fine Arts from Goldsmiths College, University of London in 2015.
He employs the media of video, performance, text, sculpture and sound, his practice dedicated to collective memory, sonic and visual memory, geopolitical situation of contemporary Iraq. he also interested to observe how war has been absorbed into local culture in Iraq, through music, film, cartoon and children's toys.
Sherko's works have been exhibited and screened internationally including Theatre of Operation at MoMA PS1 New York, US. Archaic in the Iraq pavilion at the 57th Venice biennale. May Flames Pave the Way for You at Arsenal gallery, Poland. Towner International at towner gallery, UK. Speaking Across Mountains at Middle East institute Washington. DC.US. Recountres Internationales Paris/ Berlin at Louver Auditorium, Paris, FR. Baghdad Mon Amour at the Institut des Cultures d' Islam, Paris, FR. Vernacularity at at Alternativa festival, Gdansk, Poland. Estrangement at The ShowRoom gallery, London, UK.
Selected exhibition
2020-2021
Towner international at Towner gallery, UK. Artist were selected by Polly Ataple, Mike Nelson and Noelle Collins.
2020
Rencontres Internationales, Paris/Berlin, FR.
May Flames Pave the Way for You at Arsenal gallery, Poland, curated by Aneta Syzlak.
2019-2020
Theatre of Operation at MoMa PS1 New York, Poland, curated by Petter Elee and Ruba Katrib.
Speaking Across Mountains at middle East Institut Washington, curated by Heba Elkhayal.
Rencontres Internationales Paris/Berlin at the Louver Auditorium/ Paris. Haus Der Kulturen Der Welt, Berlin.
2018
Baghdad, mon amour, Institut des Cultures d'Islam, Paris, curated by Morad Montazami.
2017
Archaic, Iraq Pavillon at 57th Venice Biennale, curated by Tamara Chalabi and Paolo Colombo.
2016
Clamour, at Instutued of Fine art Sulaimanyah, curated by Sherko Abbas.
2015
Vernacularity, Alternativa international visual arts festival in Gdansk, Poland, Co-curated by Aneta Szylak,  Emaily Pethick and Beatric Josse.
Small thing that matter more, Sala Gallery Italy, Curated by Rebben Majeed.
 Dire Straits, Lumen Festival, New York, US, curated by Sandra Skurvida.
Digite, collaboration project party of Goldsmith university MFA program at the showroom, London, UK,  Curated by Shama Khan.
2014
Freedom at the barricades, Vaxjo art hall, Sweden, Martin Schibli.
When the Wild Instrument Sing, Goldsmiths university of London (an ongoing sound performance)
2012
Dire Straits, Import/Export, Kassel, Germany, Curated by Sandra Skurvida.
2011
Alternativa International visual art festival, Gdansk, Poland, Curated by Aneta Szylak and Hiwa K.
Be Alert, Mer Gallery, Erbil, Iraq, Curated by Awni Sami. OtherIS TVDINNER, IM international, Queen,  New York, US, Curated by Sandra Skurvida.
2010
Estrangement, The Showroom, London, Curated by Aneta Szylak and Hiwa K.
Curatorial Experience
2017
Researcher and coordinator of the project In-Between Worlds, Kurdish Contemporary Artists with the curator Aneta Szylak resulting in a collection of over 30 kurdish artists and accompanying book in the framework of Imago Mundi project by Fabrica and Benetton Foundation, Trevison, Italy.
2016
Clamour, Institute of fine art gallery in Sulaimany, Iraq
2010
Postwar Culture in Iraq, Operation manager of a project in National Museum of Amna Suraka, Sulaimanyah,Iraq. Coordinator of Richard Wilson's 20:50 installation.
2009
Workshop organiser  "Kurdish Colour" led by professor Michel Fehr from UdK, Berlin, in Sulaimanyah,Iraq
2007
Sarmady, exhibition that brought 20 young artists to respond tho the theme of religious
2005
2005 Project, curated, coordinator, website and catalogue editor featuring 10 young artists from sulainmanyah, at National museum of Amna Suraka.